Applied Sustainability

Welcome to the Sustainability pages in Serlo.
The content provided here is meant to be used by students as well as contributors, educational institutions and teachers. All content can be copied, altered and distributed according to the Creative Commons license.
You can find our articles, videos, courses and exercises here:
This subject is currently in development. Most content is in German and has yet to be translated.
Our Vision
Serlo Sustainability aims to spread environmental awareness and the skills and knowledge to live a sustainable life. This subject is commited to the principles of Permaculture.
We use ditigal technology to reach a broad audience and are building an open global learning platform for sustainability that is available to everyone and can be used by educators for free. All content is licensed unter a Creative Commons license and we encourage you to copy, remix, change and spread it. Have fun!
Example: Article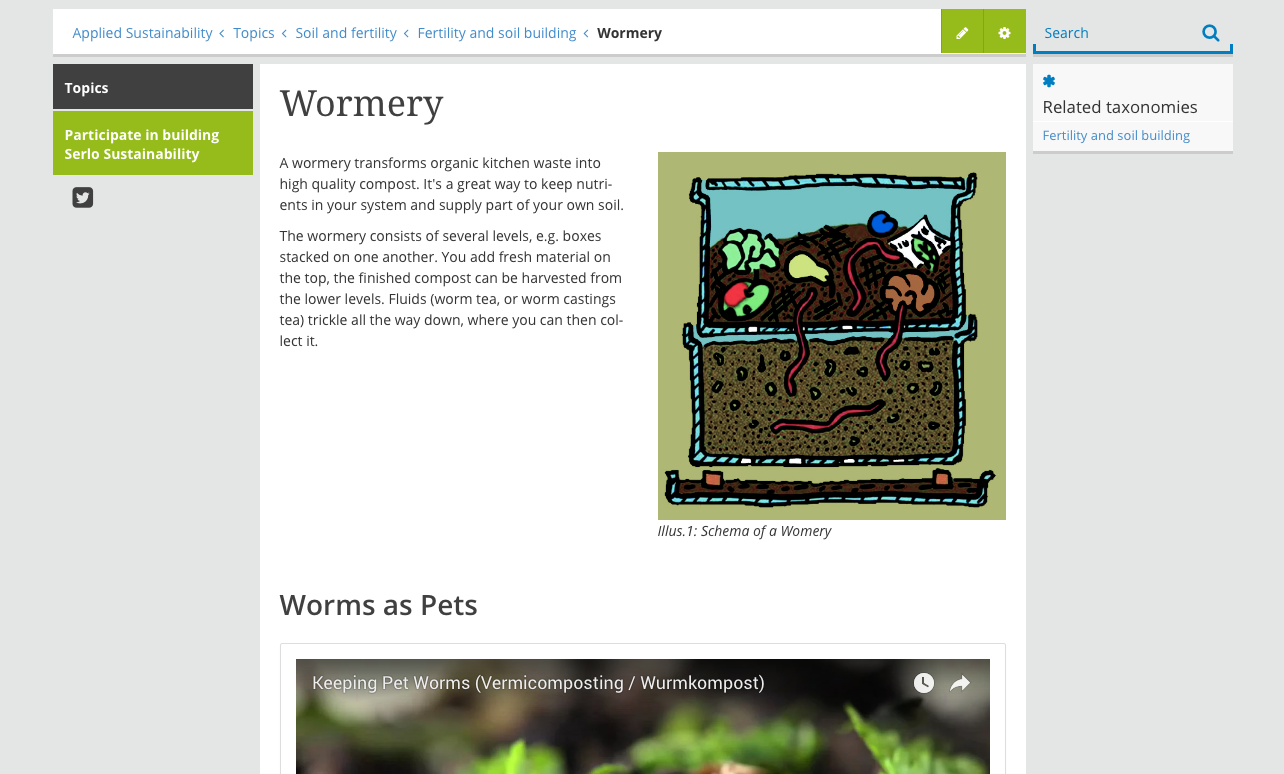 The article on the Wormery is one of the first ones we translated into English.
You can also learn about Permaculture. If you have never heard of Permaculture before, just ask: What is Permaculture?
Example: Topic overviews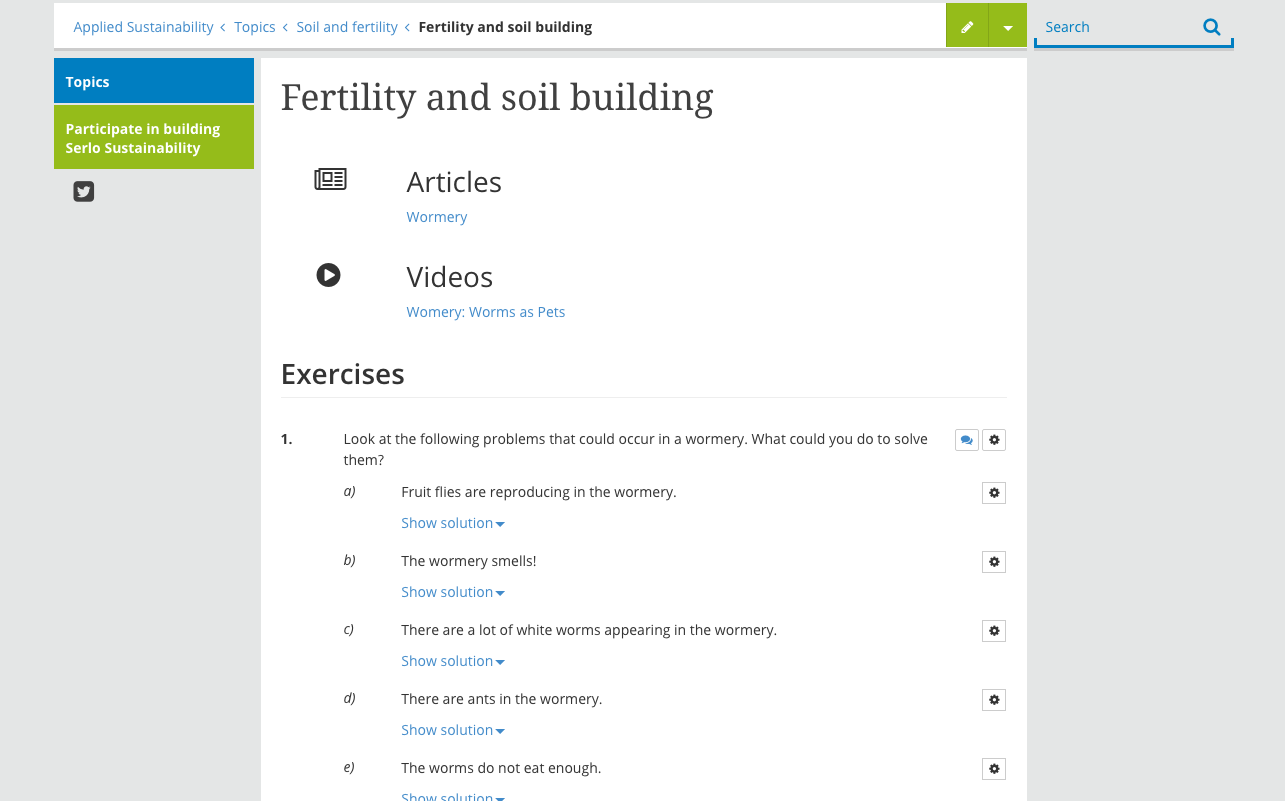 Example: Videos and Exercises
Tools
In order to support our users to learn and to create we develop small software solutions that help with garden planning and other tasks.
Plant Buddies (public beta)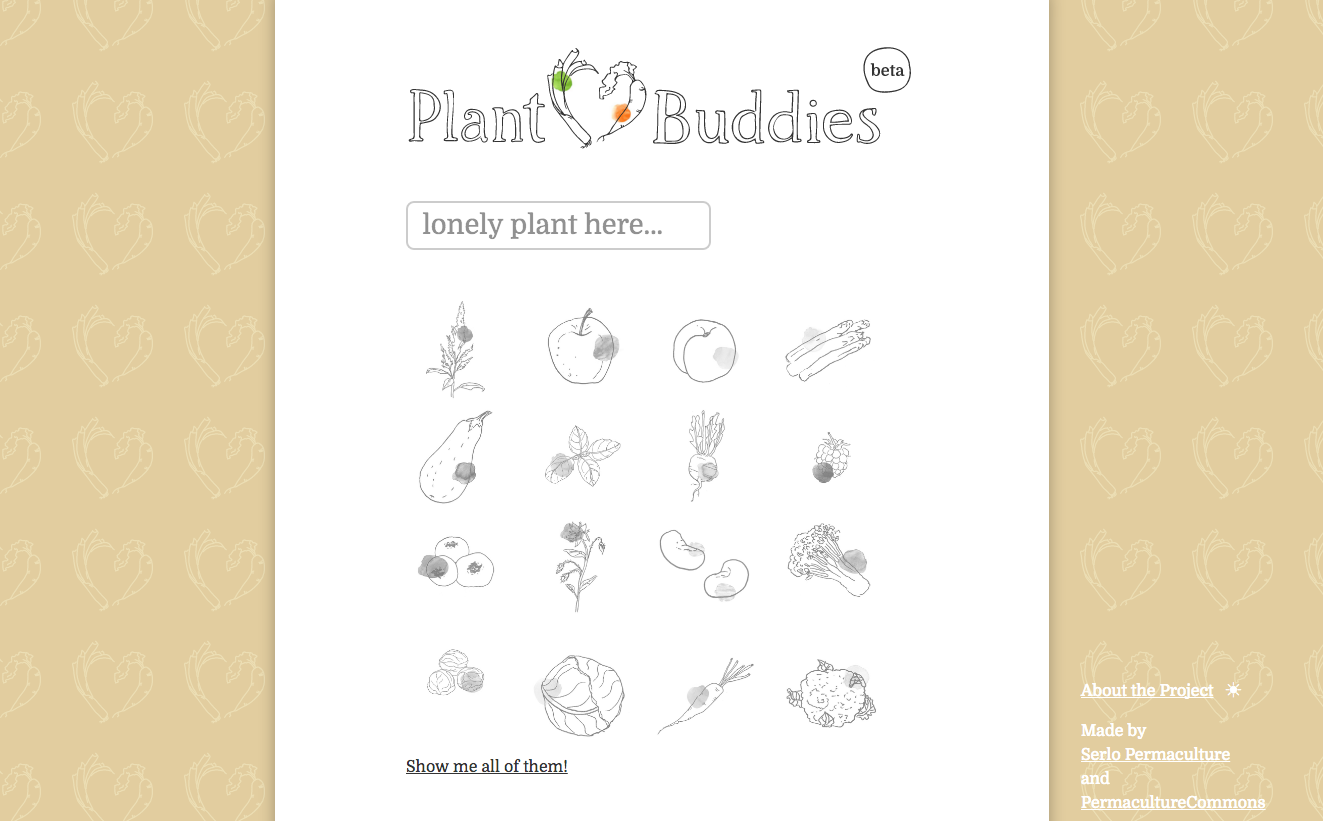 Plant Buddies is an easy to use tool that helps you with companion planting.
It's like online dating for plants!
Need a good compaion for your plant? Find it here fast. It's like a companion planting chart but in 2017.
See https://plantbuddies.serlo.org for our English beta test and make sure to tell your friends.
Garden Planner (Prototype)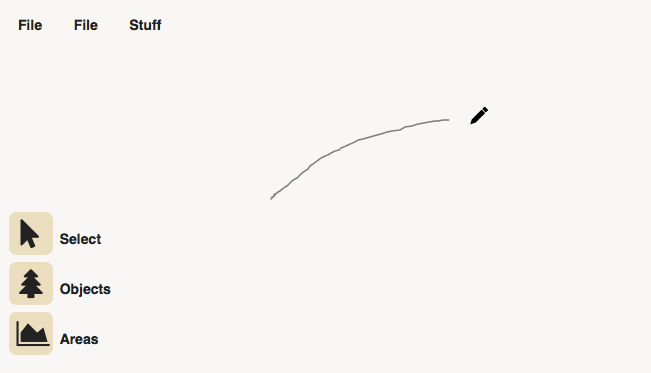 Gardens, beds, rooftops, landscapes: The Garden Planner seeks to empower people to dream, design and create.
The tool is browser-based, easy to use, free and open source – but unfortunately not finished yet.
Please get in touch if you want to help out with the developement (Javascript knowledge needed).
We need you!
For the english version of Serlo Applied Sustainability we are looking for translators (German/English).
Also, it would be very useful if you could help us to further develop the content, i.e. writing articles in English, designing exercises or producing videos on sustainability topics.
We moreover look for organisations interested in using the tools serlo.org offers and other collaborations. Do you know someone that might be interested?
Take part in the construction of free and open Sustainability Education and contact us at: botho@serlo.org or corinna@serlo.org.